The world of Enterprise Resource Planning (ERP) witnessed a game-changing event on September 8th and 9th, 2023, at the ODOO Community Day in Ahmedabad. Our team had the privilege of attending this remarkable gathering, and the experience left an indelible mark on our perspective of ERP implementation.
One of the most striking aspects of the event was the opportunity to meet with friends and colleagues we had previously only communicated with through phone calls and emails. Building and expanding our professional network was a rewarding experience that enhanced our understanding of the diverse ERP landscape.
The event was meticulously organized, featuring multiple concurrent sessions, each catering to different topics and audiences. Yet, the main attraction undoubtedly was the chance to meet Mr. Fabien Pinckaers, the visionary behind ODOO, in person. His presence was electrifying, and we had the privilege of witnessing him unveil ODOO 17. While this was a significant draw for many attendees, what truly resonated with us was a statement Fabien made on stage: "ERP implementation should be 93% out of the box and maximum 7% development."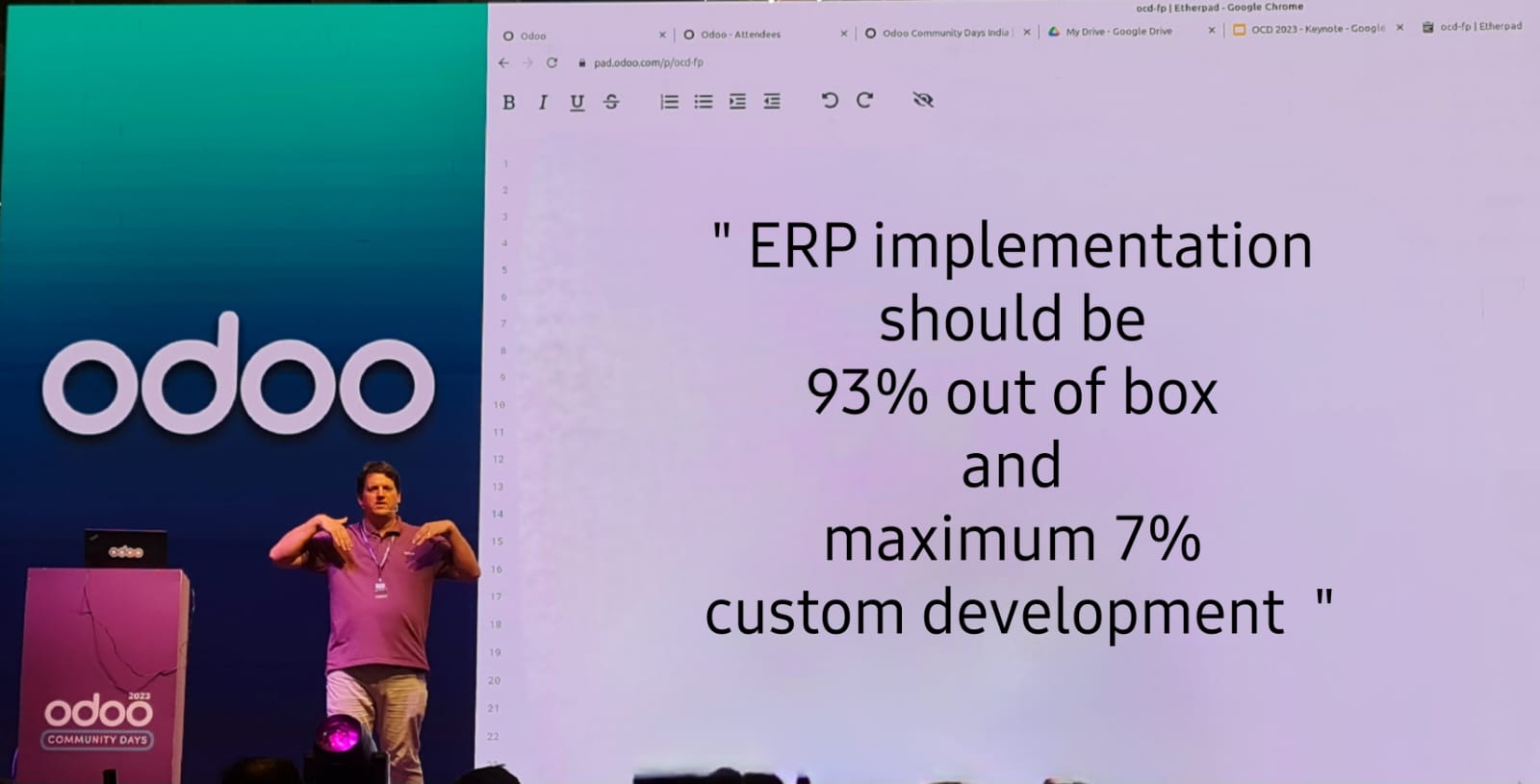 For over 18 years, we at RCS have been striving to instill this very principle in the minds of the Indian market. In the context of India's abundant talent pool, which includes a surplus of developers and a shortage of project management expertise, the knee-jerk reaction of many Indian small-scale companies has been to opt for custom code development whenever a new customer requirement arises. This approach, however, runs counter to best practices.
At RCS, our approach is different. We subject each customer requirement to rigorous analysis through Business Process Management methodologies. We ask critical questions: Is this requirement truly necessary? Can it be addressed through reengineering existing processes on the shop floor before integrating it into the ERP system? Only when a requirement is deemed absolutely essential, typically due to statutory or political reasons, do we resort to custom code development. Remarkably, this practice seldom exceeds 2% of the total ERP deployment.
By adhering to this philosophy, we have not only streamlined ERP implementation but also empowered our clients with efficient, cost-effective solutions. Our approach aligns perfectly with the global best practices advocated by industry leaders like Fabien Pinckaers. We believe that ERP implementation should be about leveraging the power of out-of-the-box functionality, supplemented by minimal, strategic development.
In conclusion, the ODOO Community Day 2023 was a transformative experience that reaffirmed our commitment to revolutionizing ERP implementation in India. By promoting the 93% out-of-the-box approach, we aim to redefine the ERP landscape, where innovation meets efficiency, and where every customization is a strategic choice.
Stay tuned for more insights as we continue our journey of empowering businesses through smart, efficient ERP solutions.